Immigration Lawyers in Sacramento California
Operating Nationwide
Kaushik Ranchod
Immigration Attorney in Sacramento
Managing Attorney at The Ranchod Law Group
An experienced immigration attorney in Sacramento at our offices can help you solve your problems and obtain the right visa for:
employment based immigration;
family, marriage or fiancee relationships;
citizenship related issues.
The Ranchod Law Group is a practice with experienced immigration attorneys with a hyper focus on:
green cards;
Hardship waivers;
Work Visas;
Marriage Green Cards;

EB-1

and

EB-2

greencards;
PERM Labor Certification
National Interest waivers
O-1 Visas
EB-1 Visas
EB-2 Visas
Every immigration attorney on the team is passionate about reuniting families and creating freedom and prosperity for businesses and professionals.
We firmly believe that families should not be ripped apart if it is possible to keep you together by filing a successful immigration application. Therefore we are dedicated to using our knowledge and experience in immigration law to untangle the legal complications that keep so many families separated.
The Ranchod Law Group can create a customized plan for each case according to its unique factors. Every immigration attorney of our law firm, uses a formula based on pre-developed strategies and processes devised by Kaushik, managing immigration attorney, thanks to eighteen years of experience in this field. This unique and personalized approach to preparing your application helps us prepare a legal immigration application that highlights why the USCIS should grant your application.
Speak to an Immigration Attorney in Sacramento Now
Contact us today for an appointment. You can also call or email us at info@ranchodlaw.com for our free book and special reports on immigration law and hardship waovers.
Find out now how The Ranchod Law Group can solve your immigration problems – fill in the following form or call us now (916) 613-3553.
Kaushik Ranchod Managing Immigration Attorney in Sacramento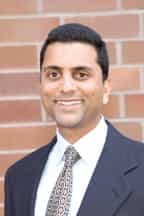 Managing Immigration Attorney
More Information About The Ranchod Law Group
Kaushik is the managing Attorney leading this team of Professionals. This legal practice, with offices in Sacramento and Stockton, helps people from around the world fulfil their dreams of living and working in the United States.
The Practice has earned an excellent reputation with 100s of five-star reviews and ratings of a top immigration attorney (AVVO 10.0 rating and Sacramento Magazine) in Sacramento with a law firm history of 1000s of successful cases including a number of areas:
Business and Employment Immigration
There are a number of work visas available to workers seeking opportunities in the US: our practice has provided legal assistance to firms and corporations in order to comply with the United States Citizenship and Immigration Services (USCIS) and the Department of Labor (DOL).
Family Immigration
We provide a wide range of services related to family and individual needs related to green cards and visas. These include filing for Immigrant Visas, applications for your parents and children and Marriage Green Cards for your spouse or Fiancee visas.
Other Visas
There are many visa and green card options which cover a wide variety of situations – we can identify options and provide assistance during the entire process. For instance, if you are a victim of a violent crime you may be eligible for a U Visa which overcomes many immigration violations.
I-601 and I-601A Hardship Waiver Process
One of the areas of major interest and success is the I-601 Extreme Hardship Waiver Process.
There are cases in which a foreign born spouse could be ineligible for a Visa in the United States: The I601 or I-601A Waiver is the means by which the ban on someone who has entered without visa can be forgiven.
The Concept of Extreme Hardship
Unlike what most would believe, extreme hardship is not a condition the authorities would consider based on the fact that you miss your spouse or family member – being "lonely" is not a condition the authorities consider one of extreme hardship. According to the law the hardship has to be "greater than the normal hardship the qualifying relative can be expected to experience if the Alien is denied admission".
The process is articulated and at times complex in the implications: although the forms may appear simple to fill in and straight forward, there are stringent requirements in compiling forms accurately providing answers to all questions – failing to do so may jeopardize the application: articulating an argument to illustrate and demonstrate the status of hardship requires experience and know-how we have, after facing many cases and different scenarios.
We know and understand the problems you are facing
Kaushik and his legal team of attorneys in Sacramento have over 20 years of combined experience, knowledge and an excellent track record in the field of immigration law. The office is located only approximately 9.8 miles from the local Sacramento field office. The practice has extensive experience representing clients for marriage green cards, 245-i and citizenship interviews at this California USCIS office. While Green Card applications are not filed locally, many of the interviews are scheduled here.
If you are seeking an experienced immigration attorney in Sacramento, we have the experience, knowledge and track record in the field of immigration you need for your case.
Contact us now for an Appointment in Sacramento Today!
Find out now how we can assist you and solve your immigration problems – fill in the form or call now at (916) 613-3553.