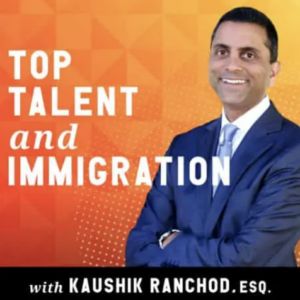 Success is not always entirely within the control of those who seek it. Fortune, however, favors the bold, as they say. It also favors those who have a vision and a team behind them that is all-in. 
The best way to find out how to be successful is to talk with those who have already achieved success. Host Kaushik Ranchod is definitely one of those people.
In this episode, Kaushik is joined by John Corcoran to turn the tables on him and find out what has made Kaushik so successful in his life and Practice. Listen in as they talk about the driving factors of success, creating a strong office culture, and the importance of having a vision.
Here's a glimpse of what you'll learn: 
[2:04] The driving factors of building a successful Law Firm or business

[3:56] It is helpful to let employees clear the air with each other

[5:33] The hiring process is key to a successful business

[9:50] The balance between being a boss and being friendly with your team

[11:26] How to stay connected with your team when working remotely

[13:33] Maintaining a positive culture in the workplace

[14:46] Marketing strategies Kaushik has used

[16:52] Having a Vision is important to building success
Subscribe on:
Sponsor for this episode
Ranchod Law Group has a mission to provide freedom and prosperity for immigrants and help more businesses to connect to top talent. The Ranchod Law Group believes that immigrants add tremendous value to the US economy seek to help companies grow with help from the immigrant talent that can contribute to their bottom line. 
They also help immigrants navigate the complicated immigration process today. Ranchod Law Group has been in business for nearly 20 years in Northern California and serves clients nationwide. Contact Ranchod Law Group today for details on how the firm can help you to solve your immigration challenges. You can visit Ranchod Law Group or call 916-613-3553 or email info@ranchodlaw.com.
Disclaimer
The contents of this post and podcast episode are intended to convey general information only and not to provide legal advice or opinions. The contents of this podcast and show notes, and the posting and listening of the information in this podcast and in these show notes, should not be construed as, and should not be relied upon for, legal or tax advice in any particular circumstance or fact situation.  The information presented on this podcast may not reflect the most current legal developments. No action should be taken in reliance on the information contained in this podcast and we disclaim all liability in respect to actions taken or not taken based on any or all of the contents of this site to the fullest extent permitted by law. An attorney should be contacted for advice on specific legal issues.