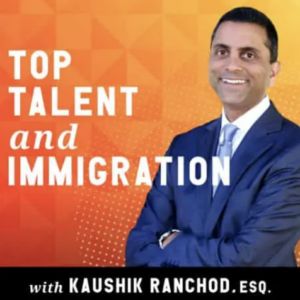 Each step and milestone in the immigration process has its own requirements and possible pitfalls, and knowing what to expect will greatly increase the chances of a successful visa or green card. There are a number of paths to take for the visa process, and taking one wrong step along the way can lead a petitioner to have to start the whole process over again. 
This week host Kaushik Ranchod continues his discussion on the next steps immigrants take after the visa process, possible changes to the Public Charge, and will also cover some of the visa options for couples who are married or engaged. 
Here's a glimpse of what you'll learn: 
[1:54] Options immigrants have after finishing the visa process

[4:12] Example case for the visa process

[5:26] Public Charge and the Affidavit of Support

[6:43] The Public Charge criteria may become more strict soon

[7:30] The Adjustment of Status Marriage-Based Green Card

[9:21] The K1 Fiance Visa option
Subscribe on:
Sponsor for this episode
Ranchod Law Group has a mission to provide freedom and prosperity for immigrants and help more businesses to connect to top talent. The Ranchod Law Group believes that immigrants add tremendous value to the US economy seek to help companies grow with help from the immigrant talent that can contribute to their bottom line. 
They also help immigrants navigate the complicated immigration process today. Ranchod Law Group has been in business for nearly 20 years in Northern California and serves clients nationwide. Contact Ranchod Law Group today for details on how the firm can help you to solve your immigration challenges. You can visit Ranchod Law Group or call 916-613-3553 or email info@ranchodlaw.com.
Disclaimer
The contents of this post and podcast episode are intended to convey general information only and not to provide legal advice or opinions. The contents of this podcast and show notes, and the posting and listening of the information in this podcast and in these show notes, should not be construed as, and should not be relied upon for, legal or tax advice in any particular circumstance or fact situation.  The information presented on this podcast may not reflect the most current legal developments. No action should be taken in reliance on the information contained in this podcast and we disclaim all liability in respect to actions taken or not taken based on any or all of the contents of this site to the fullest extent permitted by law. An attorney should be contacted for advice on specific legal issues.